At Southern Nevada Family Medicine, we try our best to provide you with the best medical care you need in a convenient environment with professional physicians who value your health as their own family. You can worry about nothing, as we use high-tech equipment for the best diagnosis.
Call us today at (702) 843-6629 or fill out the form for online appointment
Call us today or fill out the form for online appointment
About us
At Southern Nevada Family Medicine, we take care of you and your family as our own. Our family medicine team provides acute care, chronic disease treatments, and school/sport/work physicals. We also perform routine wellness annual evaluations.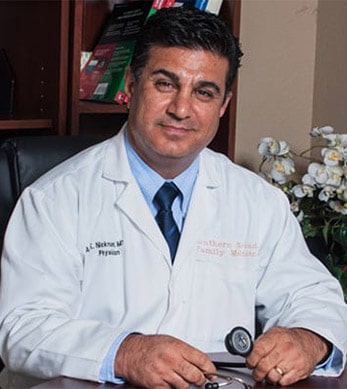 Amir Nicknam, MD, MPH, CIME, FACOEM
FOUNDER, CEO
Dr. Amir Nicknam is a board-certified physician. He specializes in family practice and is a member of the American College of Occupational and Environmental Medicine. Dr. Nicknam has received his medical degree from the Ross University, has completed his residency training at MetroHealth Medical Center in Cleveland, and his Master's Degree in Public Health from Medical College of Wisconsin. In 2010, Dr. Amir Nicknam founded SNOHC to provide expertise and services for the industrial workforce's total health and wellness.
Why choose us
 We pay attention to different aspects of our patients. Our care services meet the most up-to-date guidelines, and the equipment, health, and safety protocols we follow also meet high standards.
Our experienced healthcare providers have passed advanced clinical training. In addition, they regularly attend conferences and professional society meetings to update their knowledge of Family Medicine.
We believe that patient education is a fundamental step directly related to the desired therapeutic outcomes. Therefore, in addition to talking to the patient during the exams, we provide the patient with a thorough explanation of the treatment regimen, including drug interactions, proper diet, and exercise.
We allow all members of your family, from infancy to elderly age, to see the same physician. This means your family practice can develop a trusting personal relationship with your family, resulting in better treatment outputs.
What we do
People go to Family Medicine for various reasons, including mild illnesses, routine health exams, and behavioral health care. Some of the diagnostic procedures, services, and minor surgeries that are performed in a Family Medicine clinic are:
Vaccination such as flu shot
Birth control such as intrauterine device (IUD) placement and removal and placement and removal of contraceptive implants
Women's health services, including breast exams, Pap smears, and pelvic exams
Physical exams for sports, school, and work
Lab services
Drainage of abscesses
Of course, it is worth mentioning that the services of family medical centers are not limited to these cases. Services provided at family medicine health centers are patient-centered and affordable to meet the primary care needs of clients.
Family Medicine Center in Summerlin
Southern Nevada Family Medicine is a family care clinic located in Summerlin. At this center, our primary care physician provides high-quality, comprehensive health care plus supportive programs to families and patients of all ages, from the beginning to the end of life care. Our services range from preventive medical services and simple medical advice to complex medical issues:
Primary care services
Primary care services include general practice and preventive services. Primary care is one of the first healthcare resources to help you have a healthier life. Primary care is to:
Provide you better access to healthcare
Reduce your costs
Increase your health outcomes
It is also a better alternative than going to the emergency room due to being less expensive and a less time-consuming way to treat basic injuries and diseases. The treatment of the following problems is only part of the primary care services provided by the Southern Nevada Family Medicine Center:
Diarrhea
Sinusitis
Ear infection
Sore Throats (strep throat)
Flu (flu treatment)
Treatment or control of some chronic conditions is another service of this center:
Hypertension or high blood pressure
  Diabetes
  Respiratory illnesses such as Asthma and COPD
  Sleep apnea
Diagnostic testing
As you know, diagnosis is the first step in proper treatment. The Southern Nevada Family Medicine Center in Summerlin is equipped with advanced equipment for performing various diagnostic tests:
EKGs or electrocardiogram
Pulmonary Function Tests
Electroencephalogram (EEG)
X-ray
COVID-19 testing
Cancer screening
Cancer screening is a set of tests that help diagnose the disease before symptoms appear. These screenings include tests such as blood tests, urine tests, biopsies, medical imaging, and other tests. Screening helps prevention, early detection, and more effective treatment. Pap smear, for example, is a way to detect abnormal cells in the cervix that may turn into cancer. Some of the screenings performed at this family medicine center are:
Prostate cancer screening
Breast cancer screening
Colon cancer screening
Pap smear
Lab services
The Southern Nevada Family Medicine provides clinical laboratory services seven days a week. Services available include:
Urinalysis
Immunology and serology such as titer testing and COVID-19 antibody testing
 Lipid profile, hormone tests, diabetes screening & more
Of course, it should be noted that the laboratory services of this center are not limited to these cases and include many others.
Wellness and physical
Periodic examinations, as well as pre-employment examinations, are essential to enhance occupational health. The center is equipped with facilities that can provide occupational health examinations. In addition, the necessary wellness check-ups for students or some routine examinations that help strengthen the health of men and women are also performed in this center according to the standards of valid guidelines:
Wellness Physicals for men and women
Physicals for sports
Student physicals or school physical exam
D.O.T.physical
Pre-employment Physicals
Drug Screenings
I needed a new PCP and found this office in Summerlin. I was not disappointed with the care and service I received.
I suffer from high blood pressure, and Dr. Nicknam helped me get it under control. Thank you so much!
My ear was infected and I feel a lot better after visiting your office and receiving medication.
When my kids get ill, I always take them to SNFM. They are always reliable and caring.
Difference between a general practitioner and family practice physician
General practitioners are primary care physicians who offer medical care for adults and also children. A general practitioner may choose to practice as a family practice physician, but a family practice physician is a specialty.
Duties of family care physician in family medical centers
Family care physicians can offer a range of treatment and care services:
Treatment of chronic conditions such as diabetes and high blood pressure
Health risk assessments
Routine check-ups, such as child visits
Provide preventive care such as screening tests
Coordination with specialists as needed and follow-up
Healthy lifestyle counseling
Frequently asked questions about family medicine
What is family medicine?
Family medicine or family practice is a branch of medicine that offers a comprehensive care plan for all age groups. General practice or general practitioner is another name for this field.
What do family medicine doctors do?
Treatment of chronic conditions such as diabetes or high blood pressure
Symptom assessment
Referring patients to specialists or follow-up
Providing preventive services
Why choose family medicine?
They offer a wide range of primary care options for both acute and chronic conditions. In addition, the services provided by the family medicine center are affordable and available.
4. What are the supported health insurances at this center?
You can see the list of covered insurances Here.
Family medicine near me
If you live in Las Vegas, you can visit our family medical care center to perform all medical care, including diagnostic tests, routine checkups, and all measures related to primary care. For more information about the services provided at this center, you can call (702) 843-6629. The services of this center are provided all days of the week.