STD testing enables you to make sure you don't have sexually transmitted diseases. Sometimes it's not necessary, but if prescribed by a doctor, you should take it seriously. However, they are widely common in society, and most of them are curable.
Here's all you should know about STD, how to distinguish them, and the tests you will have to do.
Call us today (702) 843-6629 or fill out the form for online appointment
Call us today or fill out the form for online appointment
About us
At Southern Nevada Family Medicine, we take care of you and your family as our own. Our family medicine team provides acute care, chronic disease treatments, and school/sport/work physicals. We also perform routine wellness annual evaluations.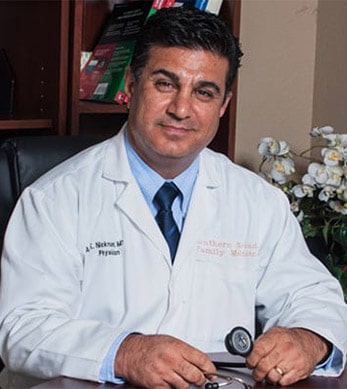 Amir Nicknam, MD, MPH, CIME, FACOEM
FOUNDER, CEO
Dr. Amir Nicknam is a board-certified physician. He specializes in family practice and is a member of the American College of Occupational and Environmental Medicine. Dr. Nicknam has received his medical degree from the Ross University, has completed his residency training at MetroHealth Medical Center in Cleveland, and his Master's Degree in Public Health from Medical College of Wisconsin. In 2010, Dr. Amir Nicknam founded SNOHC to provide expertise and services for the industrial workforce's total health and wellness.
Why choose us
The Southern Nevada Family Medicine offers medical services in Summerlin. However, we also have put our concentration on the aspects below:

 We pay attention to different aspects of our patients. Not only do our care services meet the most up-to-date guidelines, but the equipment, health, and safety protocols we follow also meet high standards.
Our experienced healthcare providers have passed advanced clinical training. In addition, they regularly attend conferences and professional society meetings to update their knowledge in Family Medicine.
We believe that patient education is a fundamental step and is directly related to the desired therapeutic outcomes. Therefore, in addition to talking to the patient during the exams, we provide the patient with a thorough explanation of the treatment regimen, including drug interactions, proper diet, and exercise.
We allow all members of your family, from infancy to an elderly age, to see the same physician. This means your family practice can develop a trusting personal relationship with your family, resulting in better treatment outputs.
What we do
STD testing is quick, and it often doesn't hurt. However, there's no such thing as a single test for all STDs; each STD has its particular test. Your doctor can diagnose if you have STD. STD testing includes:
A urine test
A physical exam
A cheek swab
A blood test
Testing your sores
Taking cell samples from your penis, urethra, vagina, cervix, anus, or throat.
Most STDs can not determine whether you have any symptoms or not. When you figure out you have an STD, you should follow your doctor's advice to be fully treated.
You should inform anyone you're having sex with so that they get tested if needed. Many STDs are cured with medication, so you can get on with your life after you are done with the treatment. Unfortunately, some STDs can't be cured. However, there are multiple schemes to treat your symptoms, preventing your partner from getting STD. STD testing is quick and painless and isn't often included in regular medical exams.
The types of STD testing
The type of STD you are going to need depends on:
Your symptoms
If your partner has had STD before
The number of people you've had sex with
The kind of sexual contact (oral, anal, vaginal, or any other skin-to-skin genital contact)
How often you use protection (condoms or dental dams)
Sharing needles
Dr. Nicknam is the best. My relatives have recommended him to me, and I'm over satisfied with his care.
Every time I come to your center, I receive positive vibes. You are lovely and affectionate. By the way, my HPV is totally treated, thanks to you.
STDs are disastrous. Dr. Nicknam always recommends we have protected sex. Thanks for your services.
You do the best STD testing in Las Vegas. Keep up the good work! I haven't met with anybody unsatisfied with your services.
STD check is necessary because…
If left untreated, sexually transmitted diseases (STDs) can lead to severe health problems. For instance:
Infertility
Blindness
Cancer
Organ damage
HPV testing
A Pap smear is a test to distinguish early signs of cervical or anal cancer. Women who suffer from persistent HPV infections are at a high risk of developing cervical cancer. Women and men who take part in anal sex can develop anal cancer from HPV infections.
A regular Pap can't diagnose an STI(Sexually transmitted infection). To check for HPV, your doctor requires a separate HPV test.
An abnormal Pap smear result doesn't necessarily demonstrate that you have cervical or anal cancer. Many abnormal Pap smears are resolved without treatment. If you get an abnormal Pap smear, your doctor will recommend you to take an HPV testing. If it is negative, you are unlikely to develop cervical or anal cancer shortly.
Physical examination
Herpes and genital warts can be diagnosed through physical examination and other tests. A physical exam helps your doctor to look for sores, bumps, and other signs. They may even take samples from some areas for lab testing.
If any changes have appeared on or around your genitals, you should inform your doctor. If you participate in anal sex, you should tell your doctor about any changes around your anus and rectum.
Get STD tested in Las Vegas
STDs are too common, and testing is highly available. The tests can vary, depending on your condition or your doctor's schemes. Make your doctor aware of your sexual history clearly and ask which tests are suitable. They will let you know about the potential benefits and risks of different STDs and STI tests. They will recommend convenient treatment options if you test positive for any STDs.
Frequently asked questions about STD testing
What is an STD?
Sexually transmitted diseases (STDs) or (STIs) are often transmitted by sexual contact. The organisms that cause sexually transmitted infections pass in blood, vaginal, semen, and other bodily fluids.
What tests are required to diagnose an STD?
You may be asked to take these tests:
A urine test
A physical exam
A cheek swab
A blood test
Testing your sores
Taking cell samples from your penis, urethra, vagina, cervix, anus, or throat.
What happens if the STDs aren't cured?
If left untreated, STDs may cause you:
Infertility
Blindness
Cancer
Organ damage