As a woman, you probably know your own body. You may see the reason for your bodily reactions, including menstrual periods, breast cancer self-check, and many other things. Rather than that, you may know the regular tests you must take to make sure of your health,
Call us today (702) 843-6629 or fill out the form for online appointment
Call us today or fill out the form for online appointment
About us
At Southern Nevada Family Medicine, we take care of you and your family as our own. Our family medicine team provides acute care, chronic disease treatments, and school/sport/work physicals. We also perform routine wellness annual evaluations.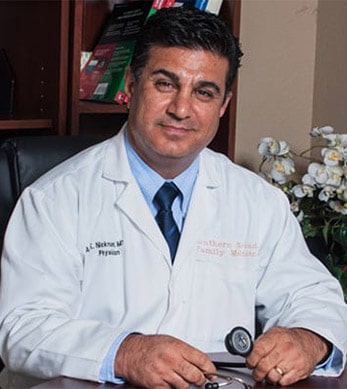 Amir Nicknam, MD, MPH, CIME, FACOEM
FOUNDER, CEO
Dr. Amir Nicknam is a board-certified physician. He specializes in family practice and is a member of the American College of Occupational and Environmental Medicine. Dr. Nicknam has received his medical degree from the Ross University, has completed his residency training at MetroHealth Medical Center in Cleveland, and his Master's Degree in Public Health from Medical College of Wisconsin. In 2010, Dr. Amir Nicknam founded SNOHC to provide expertise and services for the industrial workforce's total health and wellness.
Why choose us
The Southern Nevada Family Medicine offers medical services in Summerlin. However, we also have put our concentration on the aspects below:
We pay attention to different parts of our patients. As a result, not only do our care services meet the most up-to-date guidelines, but the equipment, health, and safety protocols we follow also meet high standards.
Our experienced healthcare providers have passed advanced clinical training. In addition, they regularly attend conferences and professional society meetings to update their knowledge in Family Medicine.
We believe that patient education is a fundamental step and is directly related to the desired therapeutic outcomes. Therefore, in addition to talking to the patient during the exams, we provide the patient with a thorough explanation of the treatment regimen, including drug interactions, proper diet, and exercise.
We allow all members of your family, from infancy to an elderly age, to see the same physician. This means your family practice can develop a trusting personal relationship with your family, resulting in better treatment outputs.
What we do
Women should take regular tests to check their health status. Women's health services include pregnancy care, birth control, preconception counseling, hormonal consultations, and ablations.
Two significant elements in ob-gyn are experience and expertise at the same time, lack of which may lead to consequences.
Our physicians take special care of the patient to put their absolute faith in them, and in return, they get the best results. Therefore, we provide services for the following conditions:
Pregnancy
Our pregnancy services include medical care and consultation before, while, or after the pregnancy period, of which we can enumerate:
Prenatal care
Sonography
Mammography
Childbirth
High-risk pregnancy care (maternal-fetal medicine)
Proper diet planning
Medication review
Prenatal care, delivery, and postpartum care
Breastfeeding and nursing
Sexual health during pregnancy
Pelvic diseases
Pelvic diseases may have different causes. Some of which we can call: advancing age, family history, childbirth, hysterectomy, or obesity. Some pelvic disorders are as follows:
Abnormal vaginal bleeding
Polycystic ovary syndrome (PCOS)
Bacterial vaginosis
Pelvic inflammatory disease (PID)
Pelvic pain
Birth control
Birth control services include a vast range of services. However, there are a few schemes that are 100% effective. Some of our birth control services under women's health include:
Contraceptives
Prevention and treatment of STD and STI
Sexual function therapy
Heavy or irregular periods
If you have heavy or lengthened menstrual periods that stop you from living your life, you should probably visit a doctor. If left untreated, it can cause anemia or iron deficiency. It may also be a sign of an underlying condition. In most cases, your physician can treat your disease by prescribing some medicine.
Uterine prolapse
The first-line treatment for uterine prolapse would be pelvic floor physiotherapy as the pelvic muscle is weakened. In addition, a pessary may be inserted to support the uterus. Pelvic floor exercises can still work when a pessary is placed.
Pap Smeer
A Pap smear, or in other words, a Pap test, is a test to diagnose cervical cancer in women. In a Pap smear, the physician collects cells from your cervix and informs you about the result ASAP.
If a pap smeer test diagnoses cervical cancer at an early stage, you will have a greater chance to get cured. It also detects alterations in your cervical cells that indicate if cancer will develop in the future or not. It's a crucial test for women's health.
Urinary incontinence
It usually occurs when urination preventive muscles are damaged, such as pelvic floor muscles and the urethral sphincter. It's one of the most common women's health services.
Urinary incontinence is usually caused by an obstruction/blockage in your bladder that prevents it from emptying the urine. However, total incontinence may be caused by genetics or a spinal injury. In addition, some conditions increase the chances of urinary incontinence. For instance:
Pregnancy and vaginal birth
A family history of incontinence
Obesity
Increasing age
Menopause
Estrogen therapy is one of the most practical treatment schemes to set menopausal hot flashes free and provide women's health. However, it all depends on your family medical history whether your doctor recommends estrogen or not.
Alterations often cause menopause in sex hormones, which happens as you get older, as your ovaries quit producing sufficient hormone estrogen and no longer release an egg per month.
Breastfeeding
Our physicians will help expectant moms have a good start with breastfeeding. Topics that physicians teach moms under women's health services include:
Benefits to breastfeeding
Latching on
Positioning
Signs to see the baby is getting enough.
Your women's health services are top-notch. My mother and I are satisfied with your services.
Your birth control services are perfect. It has worked for me. Thanks for all the compassionate effort you put into making the world a better place.
Your physicians are so helpful and caring. I had a pelvic disease, and now it's cured. Thanks a bunch.
In my opinion, health is the most crucial thing for everyone. So the fact that you endeavor to provide it for everyone is applausive.
If you need female medical care, Southern Nevada Family Medicine is the best choice for you.
Receive women wellness services
We offer a vast range of women's health services, including OB/GYN practice, ensuring all our clients stay in physical health stability.
Not only our services include medical treatment, but also they consist of physical training and laboratory trials.
Our first aim is for the women to gain more confidence about their physical condition and the medical services we offer. We insist on education more than anything. There are various rumors and myths about women's body which is not valid. We intend to make our clients aware of the facts and make them comfortable with the natural reactions of their bodies.
Frequently asked questions about Women's health clinic
What do you offer in a women's health center?
We offer a wide range of female health services, some of which we can call:
Pregnancy
Birth control
Heavy or irregular periods
Uterine prolapse
Pap Smeer
Menopause
Breastfeeding
Are your pregnancy services only for after giving birth?
Not at all. Our pregnancy services cover consultation and treatment before, while, or after the pregnancy period.
What is a Pap smear test useful for?
By taking a Pap smear test, you will make sure you don't have cervical cancer, providing you women's health.