When you feel blue or ill, medicine might help. However, most importantly, your doctor should feel what you are suffering from, giving you a sense of safety and comfort. Here, at Southern Nevada Family Medicine, we try our best to provide you with peace of mind while being treated or diagnosed.
Call us today (702) 843-6629 or fill out the form for online appointment
Call us today or fill out the form for online appointment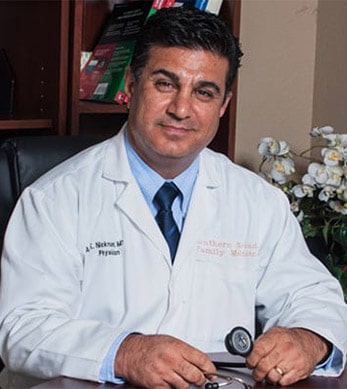 Dr. Amir Nicknam, MD, MPH, CIME, FACOEM
FOUNDER, CEO
Dr. Amir Nicknam is a board-certified physician. He specializes in family practice and is a member of the American College of Occupational and Environmental Medicine. Dr. Nicknam received his medical degree from Ross University, his residency training at MetroHealth Medical Center in Cleveland, and his Master's Degree in Public Health from the Medical College of Wisconsin. In 2010, Dr. Amir Nicknam founded SNOHC to provide expertise and services for the industrial workforce's total health and wellness.
Why choose us
 We pay attention to different aspects of our patients. Our care services meet the most up-to-date guidelines, and the equipment, health, and safety protocols we follow also meet high standards.
Our experienced healthcare providers have passed advanced clinical training. In addition, they regularly attend conferences and professional society meetings to update their knowledge of Family Medicine.
We believe that patient education is a fundamental step directly related to the desired therapeutic outcomes. Therefore, in addition to talking to the patient during the exams, we provide the patient with a thorough explanation of the treatment regimen, including drug interactions, proper diet, and exercise.
We allow all members of your family, from infancy to elderly age, to see the same physician. This means your family practice can develop a trusting personal relationship with your family, resulting in better treatment outputs.
What we do
Primary care services include acute conditions as well. Meaning you don't have to pay a considerable sum of money to get to a hospital and wait in line while you feel terrible. Our primary care service includes:
"Southern Nevada Family Medicine is one of the best offices in Las Vegas. They've helped me and my husband every time we are sick."
"The Summerlin office is a few minutes from my home. I recommend Dr. Nicknam's office to everyone I know."
" There's no other doctors office I would rather be seen at. "
"Had a few issues awhile back and was seen right away! Dr. Nicknam and his staff are amazing."
"Me and family love coming here. Everyone is super friendly and their office is very clean."
Acute care
It is a level of health care in which the doctor treats the patient for a brief but severe episode of illness. It can also happen for conditions with the basis of a disease or trauma. Acute care is provided by a range of clinical personnel using pharmaceuticals, technical, and medical supplies. Some acute care services involve:
Rash
Diarrhea
Sinusitis
Ear infection
Sore Throats (strep throat)
Hypertension/ blood pressure
Hypertension(high blood pressure) is harmful as it can lead to:
Strokes
Heart failure
Heart attacks
Kidney disease
Our goal is to lower your blood pressure level to protect essential organs like the brain, kidneys, and heart from damage.
Diabetes
We check your blood glucose level and recommend you take some precautions and diets that best fit you. We monitor your blood sugar level with high-tech equipment that can even be monitored from your own home.
Respiratory Illnesses such as Asthma and COPD
Chronic respiratory diseases affect the airways and parts of the lung. Some of the most common respiratory diseases include:
Chronic obstructive pulmonary disease (COPD)
Occupational lung diseases
Asthma
Pulmonary hypertension
Air pollution, occupational chemicals, and respiratory infections during childhood can cause such diseases. These diseases are not curable. However, there are various forms of treatment to dilate significant air passages; improving shortness of breath can eliminate symptoms and increase the quality of life.
Sleep Apnea
We make an evaluation based on signs and symptoms and your sleep history. A sleep specialist can help in determining your need for evaluation.
An evaluation usually involves overnight monitoring at the center. We observe your breathing and other body functions while you are asleep.
Urinary Tract Infections
A urinary tract infection (UTI) can happen in any part of your urinary system. For instance:
Kidneys
Bladder
Ureters
Urethra
Most infections affect the lower urinary tract, the bladder, and the urethra. We typically treat these infections with antibiotics. However, there are steps you can take to reduce the chances of getting infected.
Gynecological infections
Most women's urinary infections are fungal or bacterial. Therefore, our doctors usually treat these types of conditions with antibiotics or antifungal medications. Some of these medications are applied directly to the genital region, while others are taken by mouth.
Acne and rashes
Acne is a skin condition that may appear during puberty or even adulthood. It's a condition caused by inflammation of hair follicles and the skin glands. Our acne and rashes treatment schemes include:
Topical medications
Oral medications
Laser therapy
Drainage and extraction
Microdermabrasion
Chemical peels
Best primary care center in Summerlin
Primary care is one of the first healthcare resources to help you have a healthier life. Primary care services include general practice and preventive services. Primary care is to:
Provide you better access to healthcare
Reduce your costs
Increase your health outcomes
It is also a better alternative than going to the emergency room due to being less expensive and a less time-consuming way to treat primary injuries and diseases.
Frequently asked questions about Primary care doctor
What is primary care?
Primary care is an approach to health that ensures the highest possible level of health and well-being by focusing on people's needs and conditions, using rehabilitation and palliative care.
What do primary care doctors do?
They care for most diseases aside from very uncommon ones, in addition to offering a counsel.
Why choose Family Medicine?
We offer a wide range of primary care options for both acute and chronic conditions. In addition, the services provided by the family medicine center are affordable and available.
What are the supported health insurances at this center?
You can see the list of covered insurances Here.
Primary care facility near me
At Southern Nevada Family Medicine, we try to provide you with the most suitable medical treatment in accordance with your condition. Our center is located in Summerlin, Las Vegas. You can set an appointment online or give us a call at any time of the day. We offer you the least waiting time to get medical care.